"Father's Nose":
A Picturesque Fishing Village in the Western Cape
Lots of character and charm in Paternoster
As we drove into the village, we were greeted by white fishermen's cottages, an endless white sandy beach, colorful fishing boats, and the deep blue ocean.
We found our cottage with some difficulty as it was well-hidden in a tiny street among many similar cottages. Inside it was stuffy and humid, but we quickly opened windows to let the ocean breeze in.
We too had a long walk during which a pod of dolphins befriended us.
Cape Columbine Nature Reserve & Titiesbaai
The next day, we woke up early to a crisp and cloudy morning.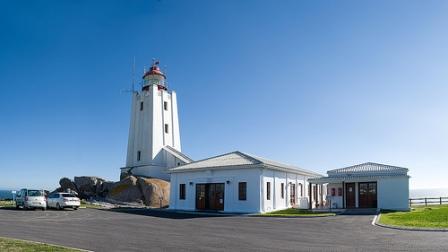 Another reason to visit the nature reserve was to see the famous beach camp. South Africans love camping out and have some of the best campsites in the world. This one was no exception. It was so popular that some people had to put up their tents on the road before getting to the actual campsite. Although the word "roadside" doesn't by default describe an ideal camp setting, the view here was pristine!

See you soon Paternoster!

Glossary of South African English, a simply delicious language:
Braai:
barbecue
Brak:
mongrel dog
Bakkie:
4x4 or SUV
Padstal:
roadside stall
Rusk:
hard, dry, twice-baked South African bread, goes well with coffee!

Rusks